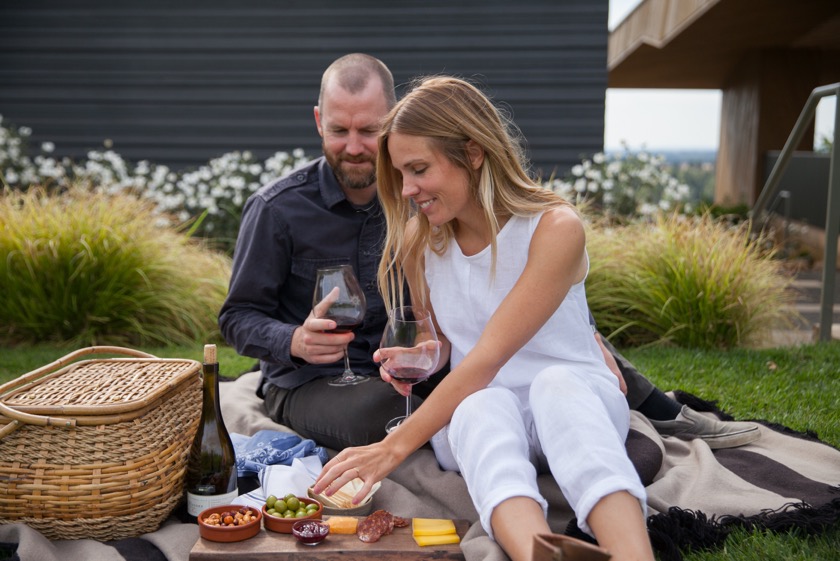 Willamette Valley Travel : Find Your Picnic Fixings
A good Willamette Valley travel story is not complete without a wine country picnic. Whether the venue is a sunbaked hillside overlooking a vineyard or a cozy tasting room fireplace, nibbles with your wine is always in season. But where to collect provisions? Fortunately, our Willamette Valley travel gurus at the Atticus Hotel have you covered.
Just Blocks From Atticus Hotel
There are great options for picnic fixings just blocks away. Red Fox Bakery specializes in satisfying deli sandwiches and delectable baked goods. The original McMinnville artisan bakery sources its flour, butter and produce locally, makes its own jams and is responsible for some of the best macaroons on the planet. Nearby grocer Harvest Fresh is also a good candidate, featuring a solid line of sandwiches – including a standout chicken salad version – along with specialty meats and cheeses and more.
For Old World goodness, drop by Peirano & Daughters. The downtown deli is a side project of McMinnville institution Nick's Italian Cafe and focuses on wine-friendly pates, rilletes, charcuterie, antipasto and a knockout salami sandwich. To take your picnic to new, European inspired heights, explore this shop.
In Our Neighbor Communities
In Dundee, Red Hills Market is an ideal stop for wood-fired pizzas, a wide variety of cheeses and a barnburner of a breakfast sandwich. With a good amount of outdoor seating and lawn games, this is a great place to dine-in in between tasting room stops as well. Ordering in advance is highly recommended at this often busy wine country outpost.
In Newberg, Ray's Produce offers some of the best deals on fresh fruit and vegetables. This is a great outlet for healthy in-season snacks to accent your DIY picnic. Just down the road is Storrs, one of the finest smokehouses in the Valley and purveyors of outstanding Pinot Noir infused barbecue sauce. Grab some expertly made pulled pork or brisket by the pound before heading out on your wine country adventure.
The Horse Radish is a fine option for picnic fixings in nearby Carlton. Here, custom meat and cheese plates and satisfying sandwiches like the Pastrami and Italian are available to enjoy in house or on the go. The cheese selection is always on point and the staff can offer informed wine pairing recommendations.
Cheeses & Food Carts
Cheeseheads ought to have Briar Rose Creamery in mind as well. The Dundee cheesemakers have a farm store open most Friday and Saturdays and by appointment other days of the week. Their remarkable cheeses, spanning around a dozen varieties made from both cow and goat milk, are among the most celebrated in the Valley. Drop by for some delicious, small-batch, wine-enhancing dairy.
A simpler and equally satisfying option is the food cart, of which there are many in the Valley. Try Taqueria Tulancingo in McMinnville or Dos Mundos in Newberg for great tacos that pair surprisingly well with the many Pinot Noirs and Pinot Gris the region is famous for. Also note that the local McMinnville Farmer's Market runs on Thursdays from May through October and is another fine outlet for fixings.
Remember… not all wineries allow outside food while some have their own food menus.
Consult our staff for an itinerary that pleases all parties. Bon appétit!